Rihanna expecting another child 9 months after giving birth
Barbadian-American singer, is an expectant mother again barley nine months after giving birth to her first child.
The 'Diamond' crooner revealed she is pregnant with her second child during her performance at the Super Bowl LVII halftime show on Sunday.
In an interview last week, Rihanna disclosed that she would be bringing "someone" when asked if there would be any surprises during her performance at Arizona's State Farm Stadium.
Naturally, fans assumed she was talking about a guest artist. But Rihanna instead debuted her baby bump, breaking the internet.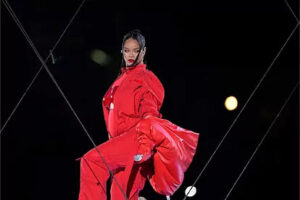 Wearing an all-red custom jumpsuit by Loewe, Rihanna appeared on one of several floating platforms which soared high above the crowd, as a swarm of energetic dancers, all dressed in white, gathered below.
The singer's mannerisms as she rubbed her belly, baby bump and limited mobility while dancing fueled speculation that she is pregnant with her second child.
The 34-year-old currently has a 9-month-old son with rapper A$AP Rocky. It is believed that the new child will be the couple's second together.